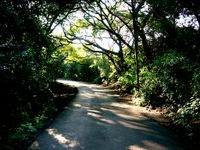 The Road by Girish Chandwadkar

Girish clicked this photograph on the way to Elephant's Head point in
Mahabaleshwar.
That was in October last year. Both of us had just completed (different) long term projects and the office (very kindly) allowed us some leave. Girish suggested Mahabaleshwar -- nice scenery, he said (he had just got himself a new digital camera). I just wanted a place where I could be away from a computer for a week. We checked into a small budget hotel, preferring to spend the money on sightseeing and food.
We had taken a taxi to the Elephant's Head the day earlier. However Girish couldn't take any photographs of the sunset then as his camera's battery was on low (Elephant's Head is adjacent to Sunset point). He wanted to go again the next day. For some reason, we decided to walk to Elephant's head. That was about 4 Km from our hotel. We started around 4.00 PM, giving ourselves enough time to reach in time for the sunset. Before leaving the hotel, we informed the hotel manager that we were going for a walk.
Girish clicked this photograph just before the road to Elephant Head moves into a dense forest (well, at least dense enough for us city types).
We reached Elephant's Head well in time for a horse ride (not for me, a horse will simply not move if i decide to ride it) and the sunset. Girish even found some time to talk to the owner of the horses, find out about his family, the amount he earned in a day, what he did in the off-season, etc.
After the sunset we turned back for the hotel when we realized that we were in a spot of bother.
Our troubles were chiefly:
The road back was mostly uphill.
It was dark. We didn't have a torch (flashlight).
We were the only two who were walking back.
We had to walk through a jungle when its inhabitants would be becoming active.
The last thought struck us but we weren't much bothered by it. "There shouldn't be anything more dangerous than snakes," Girish said in an effort to be nonchalant. We started walking back, with a sliver of a moon giving us just enough light for us to know that we were on the right road.
Ten minutes into the jungle, the horse-ride vendor trotted upto us. "Are you two walking back?" he asked incredulously. We nodded. He asked us to ride his horses. But he had only one to spare. We refused and said we'll walk back. "Walk fast and make a lot of noise. Sing loudly." he advised, before trotting away. "Why sing?" I asked Girish. "Don't know. But let's talk loudly anyway." He replied.
We finally reached the hotel (without losing our way) around 8.30.
The hotel manger was waiting for us at the reception.
"Thank God, you're back. Where did you go for your walk?" he asked. "Elephant's Head." we replied.
"#$$@*!!! I thought you had gone to Venna Lake (about a km from our hotel). Had you told me you were walking to Elephant Head, I wouldn't have allowed you to go."
"Why is that?" we asked.
"There are snakes in that jungle. And boars. And leopards. They move about a lot in the night."
"Well, we didn't see any." we said dismissively.
"I can see that or you wouldn't have been here."
We went quietly up to our room.