Chechi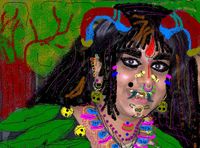 Ro

Presenting two of my colleagues,
Chechi
and Ro, who "painted" portraits of each other. Both amateur painters, I should say, have captured the "soul and essence" of their subject perfectly.
In case you are wondering this is what we do when we have some time free on our projects. . . well atleast what some of us do.
Others figure out how to post the efforts of these amateur artists to their blog.